Since 2000, the number of Portuguese entries in Luxembourg has been variable. From 2000 to 2009 there was a continuous growth, with the exception of 2004, when there was a slight decrease. In 2009 and 2010, there was a similar drop to that of emigration to other countries, in the context of the global financial crisis. From 2010 to 2012, Portuguese incomes in Luxembourg increased, accompanying the large outflows of Portuguese. From 2013 to 2015 there was a decrease in inflows in Luxembourg. The number of registered entries hasn't been so low since 2002.
Luxembourg is the ninth country where most Portuguese emigrate.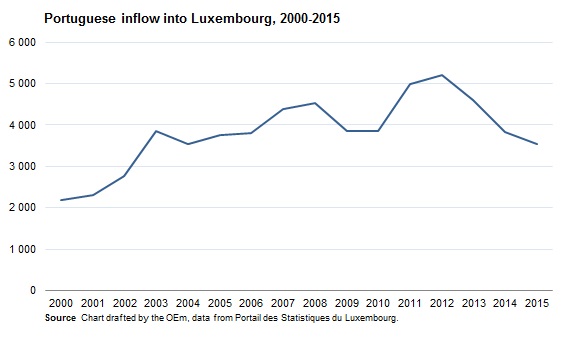 Link http://www.statistiques.public.lu/fr/index.html. Population movement. Migrations. Arrivals, departures and net migration 1967 - 2016.
Cite as Vidigal, Inês (2016), "In 2015 less Portuguese emigrated to Luxembourg", Observatório da Emigração. http://observatorioemigracao.pt/np4EN/5137.html