Series OEm Fact Sheets
Number 13
Date May 2021
Pages 26
ISNN 2183-4385
DOI 10.15847/CIESOEMFS132021
URI http://hdl.handle.net/10071/22614
Keywords Residence permits, Brazil, Portuguese emigration
Contents Evolution of Portuguese residence permits in Brazil, 2000-2015. Main sociodemographic characteristics. Geographical distribution. Metadata. References. Annex (tables)
Cite as Vidigal, Inês, Carlota Moura Veiga e Hélder Paulino (2021), "Autorizações de residência de portugueses no Brasil, 2000-2015", OEm Fact Sheets, 13, Observatório da Emigração, CIES, Iscte, Instituto Universitário de Lisboa. DOI: 10.15847/CIESOEMFS132021.
Map 1 Residence permits of Portuguese in Brazil, by federal units of residence at destination, cumulative figures, 2000-2015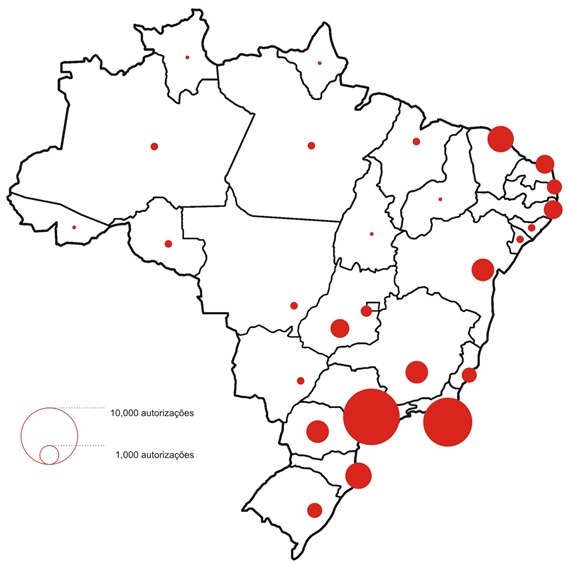 Source Map by OEm, data from Polícia Federal do Brasil.
* Instituto Universitário de Lisboa (ISCTE-IUL), Centro de Investigação e Estudos de Sociologia (CIES-IUL), Lisboa, Portugal