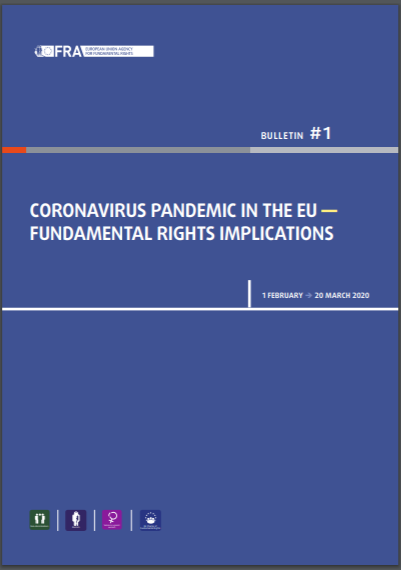 Date April 2020
Pages 60
ISBN 978-92-9474-947-5
DOI 10.2811/924028
Keywords Corona Virus, Fundamental Rights implications, Discrimination and racism, Privacy and data protection
Contents Foreword, Key findings, Introduction, Impact on daily life: EU Member States' measures to address the outbreak, Impact on particular groups of society, Discrimination and racism and xenophobic incidents, Desinformation, privacy and data protection, The way forward, Annex, Endnotes
Cite as European Union Agency for Fundamental Rights (2020), Coronavírus Pandemic in the EU - Fundamental Rights Implications, Luxembourg, Publications Office of the European Union. DOI: 10.2811/924028
Full report available, here.


Abstract
The outbreak of COVID-19 affects people's daily life in the 27 EU Member States. As the number of infected people in the EU territory began to mount rapidly in February and March, governments put in place a raft of measures – often introduced in a period of only a few days – in an effort to contain the spread of the virus. Many of these measures reflect how, in exceptional emergency situations, the urgent need to save lives justifies restrictions on other rights, such as the freedom of movement and of assembly. This report outlines some of the measures EU Member States have put in place to protect public health during the COVID-19 pandemic. It covers the period 1 February – 20 March 2020.