Series OEm Fact Sheets
Nmber 05
Date March 2017
Pages 18
ISNN 2183-4385
DOI 10.15847/CIESOEMFS052017
URI http://hdl.handle.net/10071/14550
Keywords Trafficking in human beings, trafficked persons, labor exploitation, Portugal
Contents Trafficking in human beings in Portugal: estimates. The experiences of Portuguese traffic. Metadata. References
Cite as Clemente, Mara (2017), "Cidadãos portugueses traficados", OEm Fact Sheets, 5, Observatório da Emigração, CIES-IUL, ISCTE-IUL. DOI: 10.15847/CIESOEMFS052017.
Graph 4 Persons trafficked by forms of exploitation, 2008-2014 (foreigners in Portugal and Portuguese in Portugal and abroad)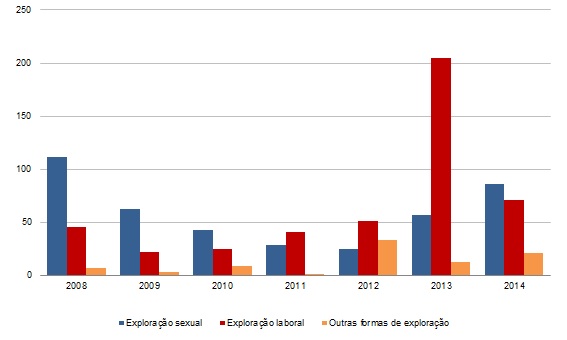 Source: Graph drafted by OEm, data given under request by the Observatório do Tráfico de Seres Humanos (OTSH) from Ministério da Administração Interna (MAI).
* Instituto Universitário de Lisboa (ISCTE-IUL), Centro de Investigação e Estudos de Sociologia (CIES-IUL), Lisboa, Portugal