Series OEm Fact Sheets
Number 04
Date September 2016
Pages 19
ISNN 2183-4385
DOI 10.15847/CIESOEMFS032015-pt-en
URI http://hdl.handle.net/10071/11929
Keywords Migration net, Portugal European Union
Contents Evolution of migration net, 2000-2013. Comparison in the European space (2013). Notes on the data. Metadata. Annex (tables)
Cite as Pires, Rui Pena, e Inês Espírito-Santo (2016), "Saldos migratórios 2000-2013", OEm Fact Sheets, 4, Observatório da Emigração, CIES-IUL, ISCTE-IUL. DOI: 10.15847/CIESOEMFS042016.
Graph 6 Migration net without returns as a percentage of resident population, EU and EFTA countries, 2013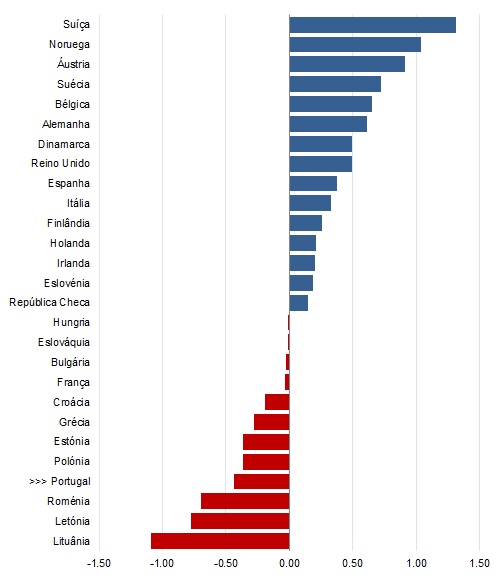 Note Excluding countries with less than one million inhabitants (Cyprus, Iceland, Liechtenstein, Luxembourg and Malta).
Source Graph by OEm, data from Eurostat, Database on Population and Social Conditions, Demography and Migration (pop).

* Instituto Universitário de Lisboa (ISCTE-IUL), Centro de Investigação e Estudos de Sociologia (CIES-IUL), Lisboa, Portugal