Coexistence is not always easy. But integration measures introduced by the local authorities and the migrants themselves show that a harmonious balance is possible.
Every year hundreds of thousands of tourists from around the world travel to Zermatt to see the iconic snow-capped pyramid, the Matterhorn mountain. A curious visitor generally does not take long to notice that most of the local workers there are not Swiss.

Immigrants are busy behind the scenes keeping the discreet tourism machine ticking over. And according to Zermatt's mayor Christoph Bürgin, 80 per cent of them are from Portugal.

Portuguese immigrants have been present in the Valais region since the 1980s, when large numbers of mainly unskilled workers travelled to tourist areas in search of jobs.

In the past they were granted temporary "seasonal worker" status, but today the free movement of persons accord signed between Switzerland and the European Union allows them to settle with their families. And with the recent economic crisis in Portugal the flow of migrants has increased considerably.

However, Zermatt's high rents and lack of accommodation force workers to look for places to live away from the resort. As a result the neighbouring villages of Täsch and Randa now have more foreign residents than Swiss. The population of Täsch currently has 562 Swiss inhabitants and 742 foreigners - including 481 from Portugal.
Integration problems
This high proportion of foreigners has an impact on different areas of everyday life in Täsch.

"At Christmas my son learned to sing Silent Night in Portuguese, but he still doesn't know it in German," said Täsch local politician Claudius Imboden, referring to the large number of Portuguese children in the local schools.

Of the 150 children registered at nurseries and primary schools in Randa and Täsch, 84 have Portuguese as their mother tongue and only 32 Swiss German.

Imboden said relations with the Portuguese community were good but admitted there was limited interaction with locals.

"This is a common problem which occurs when you get a heavy concentration of people of the same nationality in one place. They end up having a separate life, with their own associations, restaurants and meeting places," he said.
Poor German
Were the Portuguese integrated? Imboden hesitated: "Difficult to answer that one."

The main problems, he said, were their poor level of German and limited participation in communal affairs. The village recently invited Portuguese parents to explain to them the provision of childcare for working couples but nobody turned up for the evening information session.

"We don't know if people didn't understand the invitation or don't need the help," added the councillor.

Faced with mounting difficulties, the local authorities decided to introduce a number of measures to bring the communities closer together.

"In November 2010 we created the post of integration delegate, who coordinates various projects such as language and integration classes, and social activities like association meetings and parties," said Imboden.
Huge demand
Demand for the German language classes is substantial.

"More than 40 people are currently following a course, which is the second one we've organised," explained Patricia Zuber, integration delegate for the communes of Randa, Täsch and Zermatt.

Next to her stands Yolande de Carvalho, 36, from Täsch's Portuguese community. Born in Aveiro in northern Portugal, she arrived in Täsch 15 years ago to join her parents, who had already lived 30 years in the region.

When she arrived it was still unusual to hear Portuguese spoken in the streets.

"There were only three families at that time," De Carvalho explained. "Numbers have only shot up in the past six years."

In August 2010 De Carvalho and friends launched the Täsch Portuguese language and culture association that she currently presides over.

One of the group's first projects was to produce a book with texts by children from Täsch's Portuguese school. The title of the book summarises the feelings of the youngsters living in Switzerland - "One heart, two homes". The association is also trying to encourage people to learn German.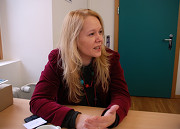 Yolanda de Carvalho (swissinfo)
Change of mentality
For the Täsch authorities a common problem is not just the Portuguese immigrants' low education level, but also the lack of importance given to school opportunities.

"Cooperation with the parents of Portuguese children needs to be improved in both directions," said Pino Mazzone, director of Zermatt's primary school.

De Carvalho agreed that many Portuguese immigrants did not view professional or higher education training as an option for their children.

"They are workers who, once home, are used to saying that they didn't go to university but that didn't stop them from owning a house back in Portugal, cars and other material things. They believe their children should start work as quickly as possible, especially as they may have been born here and thus master German and can apply for better paid jobs," said De Carvalho.

Changing mentalities is a long-term job. But Täsch officials feel they owe it to the Portuguese.

"Thanks to this community we have managed to keep our school in the valley," said Imboden, who explained that the low birth rate among Swiss families had forced many villages to cut services for locals.
Closer ties
Despite difficulties, the integration of the Portuguese community is improving.

"They are investing here, buying real estate and setting up small businesses. They are showing that they are here to stay," said Imboden.

Closer ties are also being forged with the local population. When the Portuguese community organised its first Christmas festivities two years ago, almost no one from outside the community attended.

"I was the only Swiss person present," said Zuber.

But last December the Portuguese Club decided to invite the entire local population.

"The mayor, members of the local council and council employees came along," she said.

Next time the invitation should be more personal, she suggested: "The Swiss are a bit timid and don't really know if they are welcome or not at our centre."
Alexander Thoele, swissinfo.ch, aqui.
(Translated from Portuguese by Simon Bradley)